I wished for rain.
I knew the competition would be tough and I hoped foul weather might give me an edge.
When I left my house it was just starting to lightly rain. It seemed so insignificant that I wore my nice shorts.
It was WT after all, which even in the wet isn't very bad, so what's the harm?
On my warm up the trails were awesome. The moisture starved earth was really soaking it up giving the trails a fine tack.
The line up was one of the most efficient I've seen, without riders jockeying around to get into the right group or the need for the officials to ask everyone to move back.
Even so waiting 8 minutes after the Pros taking off was freezing.
The rain had picked up.
Not a down pour, but steady.
We have a good size group, 14 the official says.
Chris blows the whistle and we take off.
James
, Josh Wilcox, and Todd Bowden quickly open a gap.
I'm leading the rest.
We are packed tight; there is no gap going back to like tenth place.
About 3/4 through the first lap we catch out first 40-49 rider.
I call out "on your left" and jokingly add "and block those guys"
Jake yells "I heard that"!
To emphasis his good hearing he blasts past me on the next fireroad like he has a
motor hidden in his bottom bracket
. I think he's going to catch the leading 3.
I get that sense of doom and failure; oh well fifth isn't so bad.
Then Chris LaSalle passes me, but he's not opening up the gap that Jake did and we go through the start finish close.
As we get to the next singletrack section we begin to catch more 40-49s. This brings Jake back to us a bit.
On one of the few climbs on course I do what little men do; I attack.
I pass Chris, and the guys we caught and now have Jake in my sights.
On the next fireroad section I'm able to pass him before the singletrack.
He, Chris, Kerry and Royce are right behind me.
I'm not opening anything up.
Near the end of the lap there is some singletrack that is progressively getting sketchier. We catch another guy and I think he might have slowed the train down because as I get to the run up I realize I've got a little breathing room.
(
Fabian
was on top of it cheering and he would have cheered for Jake too if he was close).
The third lap things are getting soupy. Usually WT is pretty fast even in the rain, but they cut some new singletrack to make the course more interesting which is turning into a fine loamy slurry.
I'm trying to stay seated and remind myself I've got the skills to handle this slop.
I catch more back markers, which is always fun, and think I'm in the clear. But as the trail turns back on itself I see Kerry all too close behind.
Keep cool and keep the power on.
The conditions are really getting dreadful.
Going down a hill with an off camber turn at the bottom I pull my rear brake lever.
Nothing happens.
When it's sloppy I use the rear brake alot for control. Guess I'll have to use something else...like my foot. I remind myself conditions are just as shitty for everyone else and try and keep it upright.
I do and cross the finish line where James is waiting (covered head to toe in mud).
He won! Josh got second.
I ask what about Todd?
"He hit a tree and messed up his knee".
Bummer.
Not the way I want to get on the podium, but as "they" say "that's racing".
(doesn't make it any better).
Kerry comes in less than 30 seconds behind me and Royce was less than a minute back.
If Todd had finished, I assume ahead of me since he was up with
James
and Josh, I would have tied my best result at WT. Due to his misfortune, this was my best result here.
Good day for Createx / Benidorm with James and I on the SS podium, Josh E and Jay G on the 30-39 (2nd and 3rd) and solid results from Craig TJ and Miles E(7th, 10th and 4th respectively).
I don't know how our riders from the other CATs did, as this is all about
ME.
My choice to wear my race shorts, the shorts I'm not allowed to train in that I've only worn twice; they ripped when dismounting for the run-up on lap 2! Just barely grazed the saddle and ripped!
Thanks to
Berlin Bike
for their generous support,
Winding Trails
, and Jim and Johnathan for all their hard work,
Sorry for the crappy camera phone pictures but here's the SS podium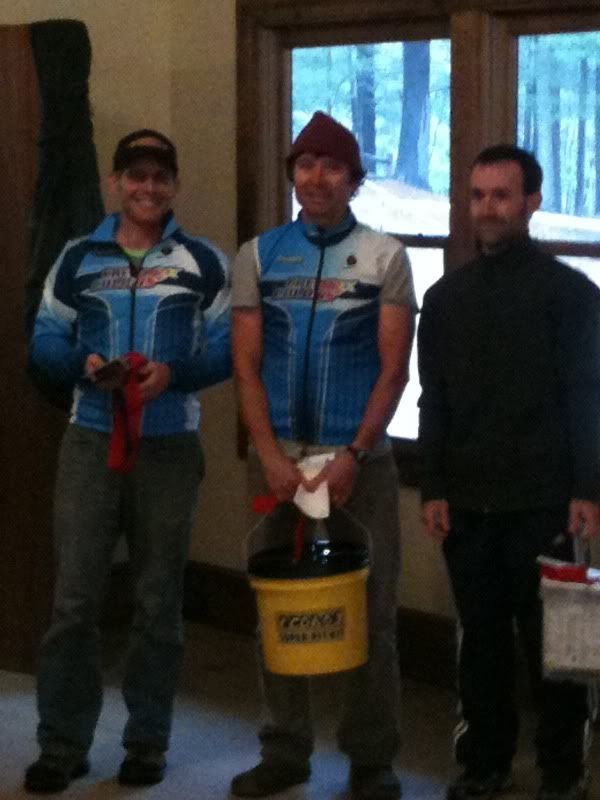 and here is the artistically enhanced 30-39 podium (Due to Jay's absence)