After Saturday's dismal display I needed to wash that tepid rancidness out of my mouth, and what better way than on my
Swift.
Plan was to do a mini TdT, riding the res. and Penwood, but not going all the way to Tariffville.
Things were going great; it was so refreshing to be riding singletrack through the woods full tilt.
Descending down to Penwood, I must have nicked a rock, as my rear tire lost all pressure instantly through a sidewall slash.
Normally, I'd just boot it, slightly over inflate, and be on my way, but my pump decided it really wasn't interested in filling my tire after about 15 psi.
My plans thwarted, I limped
home on the road.

Well it's about that time anyways; time to swap out the light racy rubber, for something more gnar'.
I put an Ardent 2.4 up front. It only has couple of rides on it. Huge volume, and very aggressive tread. On Monday it seemed I couldn't get the pressure low enough; too high and it acts like a giant rubber mallet on my hand. But I still seemed to be bottoming it out. Today I was able to lower the pressure into the teens with out bottoming, so maybe I was just riding like Ray Charles yesterday. So far I'm not really crazy about this tire. Maybe when things are muckier, or snowy, but right now it seems to be a bit much.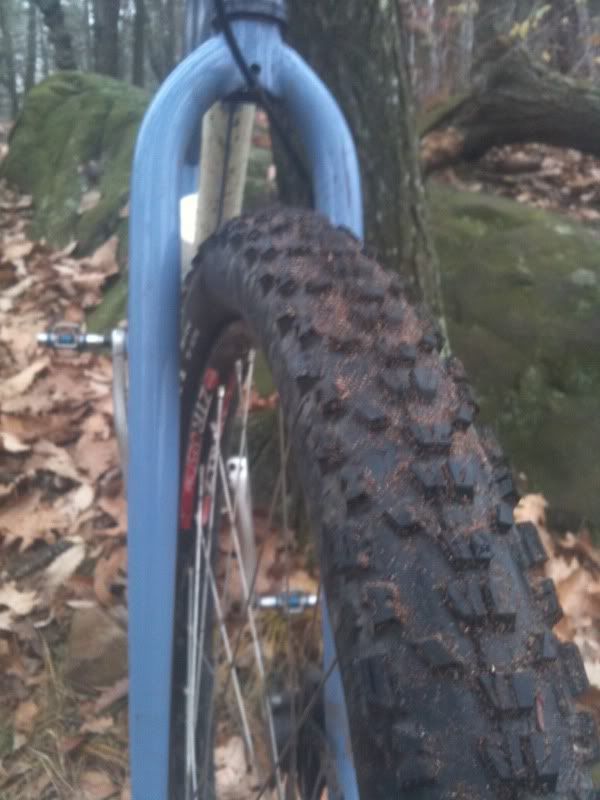 Out back, I went with a Kenda Nevegal 2.2. This tire has seen it's better days. This is it's third season, and I found, even though it still has significant tread, it's not quite as sticky as when it was new. I originally mounted it backwards to try and take advantage of the sharper trailing edge, but spun it around, as I wasn't too impressed with it in dry leaves. In today's dampness it did okay once I dropped the pressure below 20 psi and stopped riding like a timid little girl (maybe tire designers know more about tires than me?).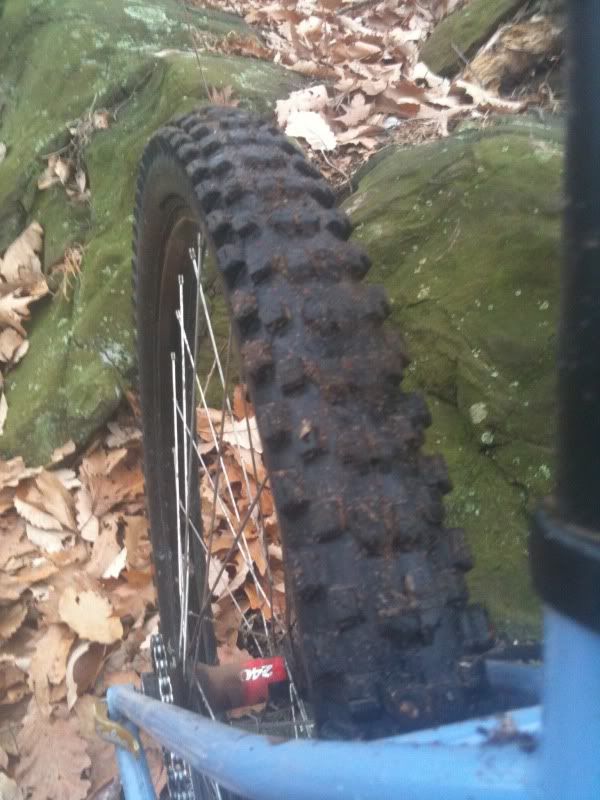 I was pretty cautious in lowering the pressure, because all I had was the world's lightest and crappiest pump, and a single CO2.
This looked a lot better on the tiny screen of my phone. It had begun to rain, and I had the woods to myself. Autumn in New England is wet leaves over rocks...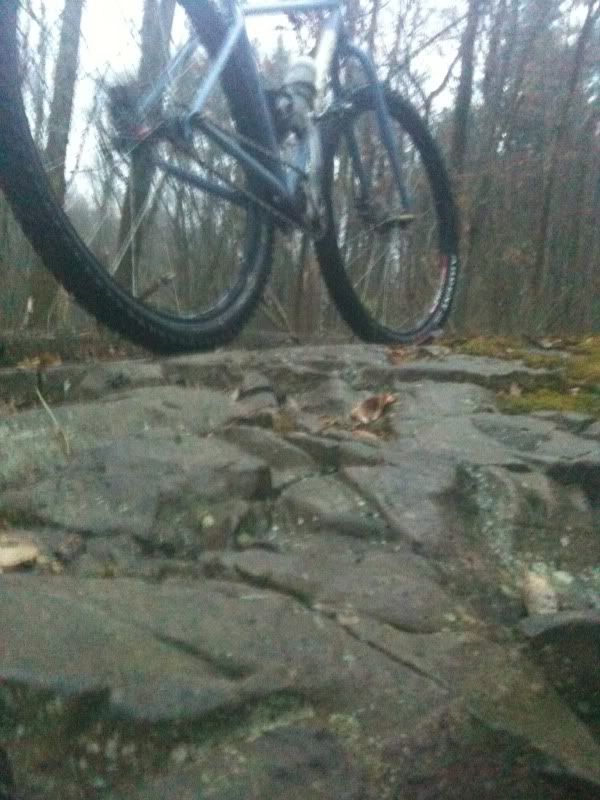 ...and rides ending (or beginning) in darkness