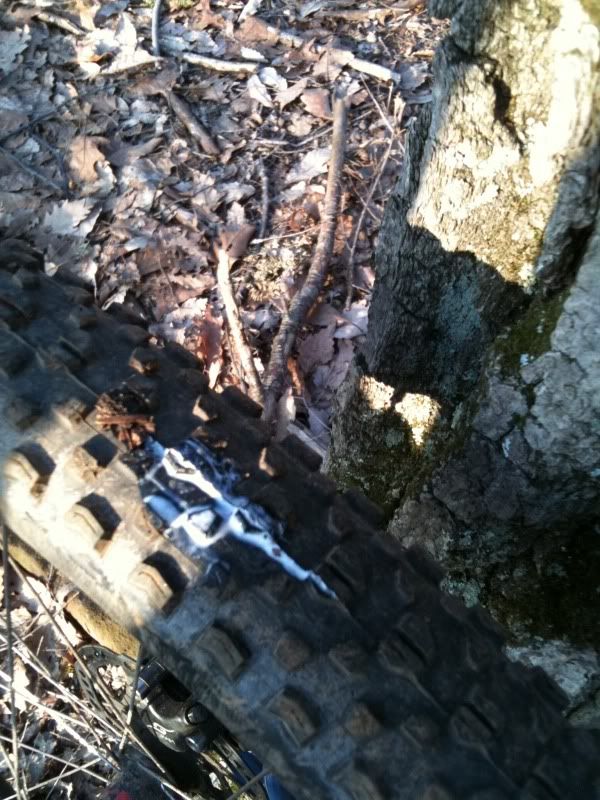 Okay, let's play a game;
Who can remember the last time I punctured?
Yes, you in the back...
That is correct, the
Rapture
was the last time I flatted (on my mtb)
Okay, now who remembers the last time I dropped my chain?
Shut up Neal!
Let's rephrase that: When was the last time I dropped my chain before switching to White Industries Eno Cranks.
Ha!
Stumped ya!
It was
Hodges Village Dam 2009
. I tried to rely on a DT RWS skewer w/o a tensioner and dropped my chain 3 times in that race.
So what's up with the quiz?
I dropped my chain
and
punctured a brand new tire in less than 5 miles today...and 2.5 of those miles were on the road.
Since I just put the tire on today there was copious amounts of sealant, but when you tare a knob, well, your
fooked.
I had put on my new
racer boy
treads and was trying to dial in the pressure. But I've become spoiled by the plumpness of my
Monster Truck Meats
.
Racer Boys
sure roll nice though. Might have to split the difference and go
Monster
/
Racer.
Now with the chain. All of a sudden I've had a rash of chain drops.
Was my EBB slipping?
Bolts not torqued?
Chain too loose?
WHAT!!!!
It dawn on my the chain drops started when I put the
pretty cranks
and Ti bb on the bike.
Maybe the spiderless design is more flexy?
I ran Raceface Turbines with a Ti bb without issue.
Well there was
one issue
.
First race is in less than 2 weeks; I needs to get this sheet sorted STAT!