RT 91N, exit 40.
That's as far as I made it.
Bike was prepped, food and drinks were packed. I was well rested, and had a good week of riding leading up to Sunday (not too hard, not too easy).
But there were some rough edges that needed to be smoothed, that were weighing heavily on me.
I guess some things are more important than racing my bike.
In the half full / half empty category, 1st, and 3rd place in the series also didn't race the CAT1 40-49 (
Jonny
Bold did a road race, and Kevin Hines came in 2
nd
in the Pro / CAT1 open). So I didn't gain, or loose any ground. All even stevens and the like.
In lieu of 4 hours in the truck I did have time to change the bars on my
Univega
(wider is better). Due to said rough edges I was rushing it, and things were not going smoothly.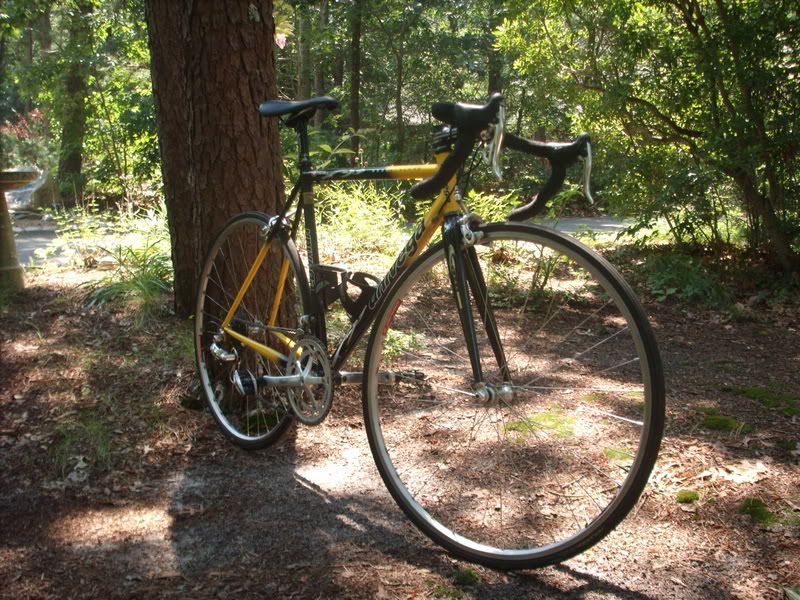 First going with wider bars meant replacing cables and housings. Somehow the derailleur housings which seemed way too short, worked out by re-routing them on the inside of the bars, but there was no way around the brake cable housings.
The little tape strips under the
brifters
wouldn't stick, or would the fancy finishing tape, so I ended up wrestling with bar tape for far longer than I'd like, and I had to finish the ends with electrical tape.
Riding in this morning, I realized I didn't tighten the
brifters
, as the left slide a 1/2" out of place. So I got to re-tape the left side once again.
Another thing I forgot to do in my rush was inject more sealant in the tires. I remembered this as the sky turned black.
Then I heard
pft
,
ftftftftftffffffffff
.
So as I admire the blister on my thumb, I'm thinking that was a lot of work for a bike that's not nearly as fun as, well, the Fun Machine.