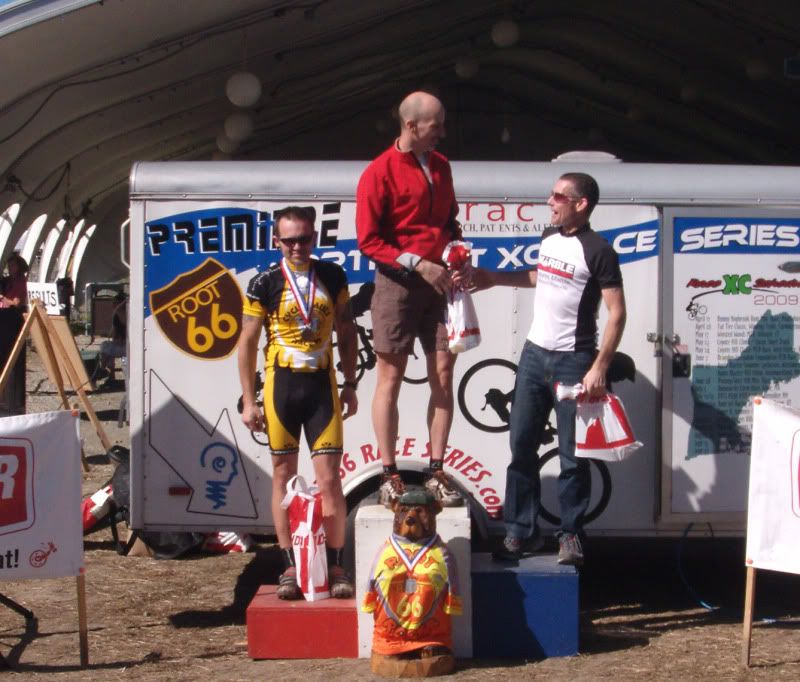 Royce 3rd, Stu 1st, Charlie 2nd
I left for Mt Snow a little early anticipating having to fill my gas tank. But my wonderful wife was courteous enough to do it for me the night before, so I got to the venue with plenty of time to do a complete lap as a warm up!
All I had to do was finish 5th or better and I would win the series overall. We had a pretty small field, so I was confident that would happen. We would start with the 30-39 year olds.
The whistle blows and a big group is able to jump in front of me before we got to the first climb. This is a ski resort so, the first climb wasn't too far away. As we start our ascent up the first fireroad, I begin pulling back riders. As far as I know Stu Jensen is the only rider in my class ahead of me.
We turn for a quick descent and Gerry LaFleur comes flying past me. I yell "Go Gerry!" and he apologizes? I would have been super psyched if Gerry could hold it out, but as we start to climb I pull him back.
As we continue our climb I'm slowly eating into Stu's lead. About 80% up the climb I catch him. This doesn't last too long as he makes easy work of catching and passing me on the 2 mile descent to the start/finish.
I'm fine with this. When he first caught me, I asked him to let me know when he wanted to pass, so I could get out of the way. I just have to finish, so I'm just going to enjoy the ride. Stu disappears into the trees.
As I start the second lap I see Stu up on the mountain ahead of me. He has a good gap, but it seems to be closing pretty quickly. I figure, well as long as I'm here...
I catch him about a 3/4's of a mile lower on the mountain than on the first lap. I did have to walk the top of the toughest hill. I'm able to finish the lap without getting caught.
But Stu's got me in sight.
As we start to climb, I'm holding the gap, even widen it a bit, but I'm fading. Scratch that, I've cracked!
Every climb is getting harder and harder. I have to walk a portion of the two hardest hills.
But I get to the woods, and the descent still in the lead. At first I can hear the clanking of Stu's suspension following me, but as I continue the descent it slowly fades.
Am I opening my lead, or is Stu riding really smooth?
Apparently the latter.
As I exit the woods for the final fireroad to the finish, I've only got about a 100 meter gap to Stu. I pedal like crazy, but Stu puts it in a big gear and cruises by.
Maybe riding a full lap as a warm up wasn't such a bright idea?
Oh well, would of, should of, could of...
I got 2nd and the series overall. It would have been nice to have won the finale, but that's racing. Stu was even apologetic on the podium, but that's ridiculous, it was a well deserved victory.
There has been a lot of negative talk about the course at MT Snow, but I thought it was great. True, it was probably the best weather we've had all season, but even if it was wet I would have thought it was a good course. Hard, but that's a good thing, right?
This season far exceeded my expectations in many different ways.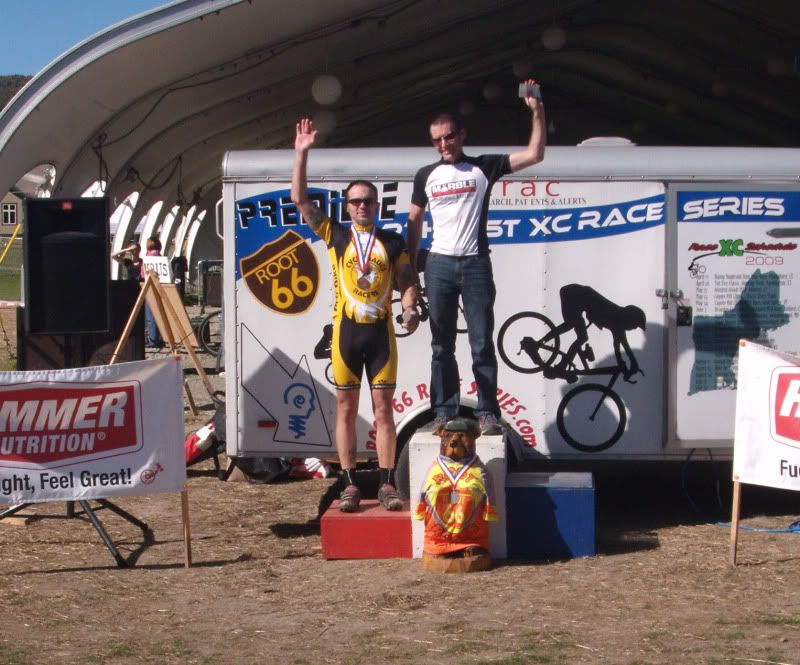 1st and 3rd overall. No we're not holding hands.