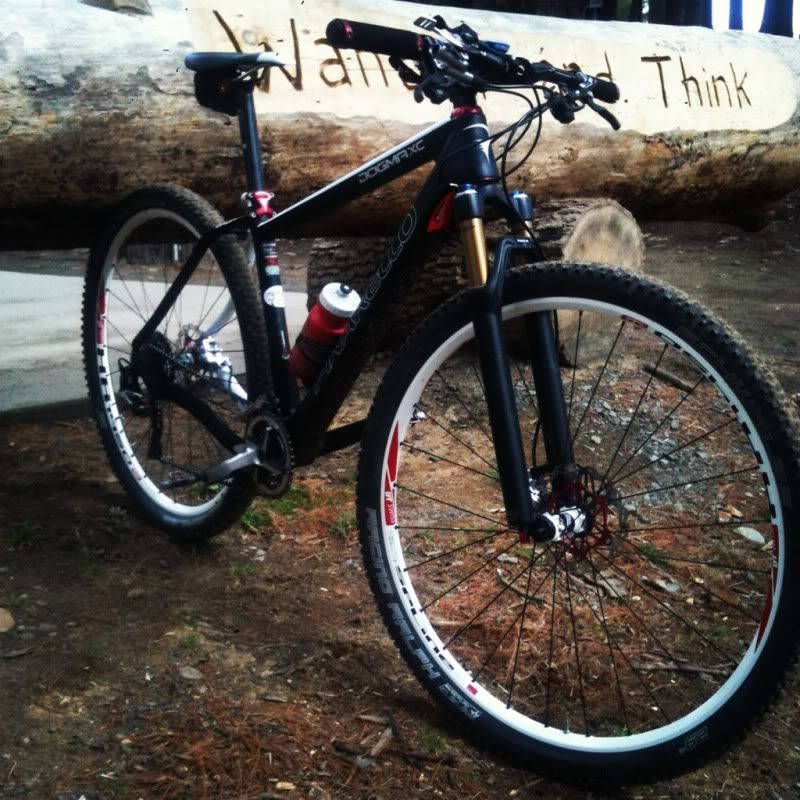 The
Pinarello Dogma XC
.
I jokingly quipped to Ben "I could race that at
Winding Trails
"
Without missing a beat he replied "Go ahead".
I was a little taken back by this; me riding a
Dogma XC
with
full XTR
,
Fox CTD fork
and
DT Swiss 1450
wheels. A little different from my mantra of "Jam Econo".
One problem is this is contrary to
my yearly goal
of riding only SS or fixed this year.
Technically I ride geared bikes all the time when I'm test riding repairs, so if riding the Dogma XC was considered "work"...
Pete asked me "Are you going to ride the Pinarello"
Hello loophole!!
I rode it
home from work
cutting through the Res. Not having a spare tube I took it rather easy. My first thought was the bottom bracket was a little low as I struck my pedals on some rocks. But the cranks are 175 mm and I ride 170 mm on my own mountain bikes. so it might just be me not being used to them.
The next day I met Josh and TJ over at Winding Trails for some
Recon laps
.
Very pleasant.
The center of gravity is low on the frame as is the standover height; one of the few 29ers, if not the only, that I've ridden that has a suitable top tube length without compromising the ol' wedding tackle. This helps the Dogma XC rail corners. The handling is sublime. The best compliment I can give it is I didn't think about it. I just got on it and rode.
No quirks.
The carbon has a solid, direct feeling, yet some compliance. This was most evident, along with the well mannered handling, when I hopped back on
my bike
. In contrast I had to really man-handle
Aspasia
to get her around the course, something I had never noticed before.
Who is the Dogma XC for?
It's a well thought out, great handling bike (except for the single water bottle mount); if you're a XC rider of discerning taste and means, this might be the bike for you.
If only it came in a singlespeed...