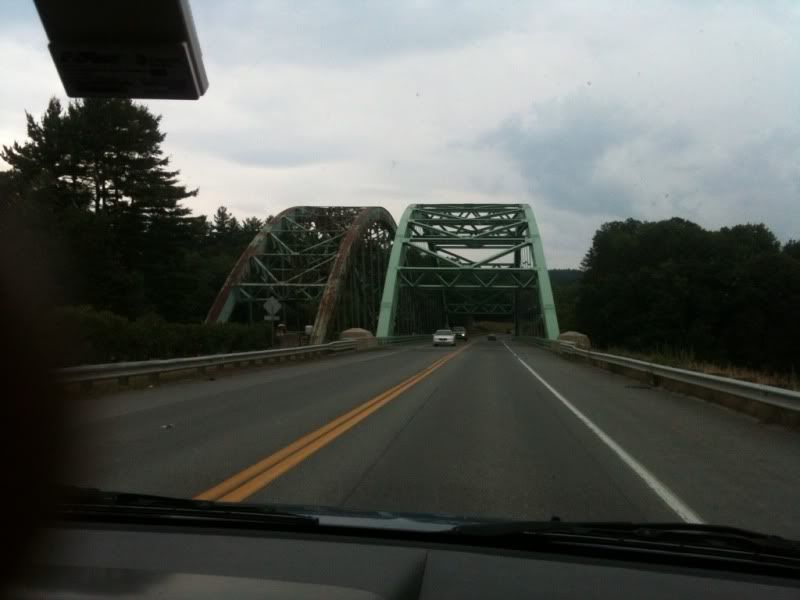 Ah, New England.
Land of steady habits, abandoned bridges and awesome bike racing.
They redid the Bike for Bovines course this year; instead of the 4 mile ass-grinder of a loose fireroad climb (which I loved) and the 2 mile flat to downhill bike path (which I loathed) it was 90% singletrack (baby!). Being a New Englander, I am resistant to change, and as much as I disliked part of the old course, I was reluctant to accept the new one.
There was a low prereg for the Cat1 SS class, so I signed up to race with my peers. The Junior Geezers as I like to call them (us). the Cat1 40-49 has been consistently one of the largest and fastest groups on the racing scene. From who showed up today that looked like it would be the case again.
The whistle blows and I do a spectacular reverse holeshot to about 10th place. Swinging around the first tight fireroad turn, it seems I'm holding my ground okay. I actually feel I can go a little faster than my multi-speed compadres. I swing into the rough and grab a few spots.
Another sweeper and the course begins to climb.
Climbing? I love climbing!
These are just shallow pitches but they are enough to equalize things a bit.
Grab a couple more spots and cross the street.
Now the real climbing begins.
Other than the Start/Finish which is probably about a half mile of double-track, and a few connectors here and there, the rest of the course is singletrack. But it's pretty passer friendly. On a the wider switchbacks I grab a couple more spots.
I have the leaders in sight.
MKR
has a little gap on
RC
, and I have a clear shot to RC's wheel.
On the longest climb I claw my way up to him. Meanwhile
Mike
has done what Mike does; lit the afterburners and got out of sight.
Rob
leads most of the first lap, but on the tight little brute near the end of the lap, he lets me take over second spot.
This is short lived as we swing on to the fireroad, and he goes clicky-clicky.
But as the climbing starts I reel him back in and pass him back. I'm getting little gaps on the climbs, but the effort must be taking it's toll, because I repeatedly dab, loosing anything I have gained.
That's okay. As long as I can stick with him, maybe on the last lap I can make it stick.
Rob decides it would be in his best interest not to see my plan pan out, and as we swing towards the Start/Finish he lays down the watts and gets himself a good sized gap before we start climbing again.
Okay, time for damage control. I'm still on the podium, let's keep it that way. As long as I can keep RC in sight, I know I'm racing well. I'm getting glimpses of him on the switchbacks and through the trees.
Good.
On the forth lap up the biggest climb I see him ahead of me. I'm pulling him back! This is awesome!
I bang my handlebar against a tree, and knock myself off my bike. Guess I'll have to run it this time.
But I'm still gaining on him!
Great!
Ah, no, your gaining on one of his teammates from another age group.
But the rearview's clear and I finish in third.
(and narrowly escaped being lapped by the Honey Badger)
The new course is great. Super fun. It and
Grafton Pond
have really raised the bar.
Change is good.