Saturday was my very first cross race. I had planned to go down to NY for the
Bottle Ride
, but when the date changed from Saturday to Sunday, it conflicted with family commitments.
So when Andy said he was coming up from NJ to do
Crossin
' 4 Canines a scant 20 minutes from my door step, and asked if I was going to do it, what could I say?
I put the biggest gear I could fit on
BluSteel
without changing the chain length, some fast rolling
Maxxis
Aspen 2.1 tires, headed over and hoped for the best.
Fumbled with the intricacies of pinning a number to my jersey, and rolled around Rocky Hill until the course was open for a
pre
-ride lap.
I respectfully took a spot in the last row, reminding myself this was just for fun.
Whistle blows and there is all sorts of line chopping and weaving going on around me; mountain bike racing seems downright polite!
I don't know if you could really call it settling in, but I began racing with a group of about 5 guys.
Hot, dry and dusty; this is not fun.
I'm doing the barriers as well as any of the guys around me, but I don't know if that is good or bad.
At the end of the first lap, the official says I'm 11
th
.
That changes at the 2
nd
180 on the course when I lock my rear brake, and
spinout
.
Now I'm chasing back to the group I was racing with.
Still not having fun.
When I reach "my group", I'm getting frustrated. I feel like I could be riding faster, but keep getting blocked in the corners. So I power up the outside to get to the front before a little barrier in front of what is supposed to be a run-up (nobody runs it and everyone bunny-hops the barrier). Bunny-hopping the barrier is one place my mountain bike is a definite advantage over the cross bikes.
On the previous two laps I noticed this second half of the lap (beginning after the "run-up") I was riding a little stronger than "my group", so I try and put some power down; as much "power" as one can expect from a little man. This gives me a little gap, that only one of "my guys" can close.
We are racing neck and neck up to the double barriers, when he crashes during his dismount.
Now I'm dangling off the front of my splintering bunch.
A guy in a white jersey (results aren't posted online yet, and since I don't usually race with these guys, that's the best I can do for an id) is maintaining a pretty consistent gap, if not closing in on me for the last two laps. I'm expecting him to catch me, but the gap is hard to judge with the way the course winds and twists.
He never does hunt me down and I cross the line completely oblivious to how I did.
I don't think I had a lot of fun.
One of the guys I was racing with tells me cross isn't so fun when it's so hot (it was 92 *F!). Then a photographer tells me I pissed off a lot of guys, which I assume is because I finished ahead of them riding a
singlespeed
mountain bike with a bell. That cheers me up a little.
True, immature, but look who we're talking about here.
Then a guy I finished in front of (from "my group") says he finished tenth.
Hello!
When results are posted it turns out I got 7
th
out of 33.
That perks me up a bit.
Then someone tells me since they didn't have a Pro1/2/3 group, my race was open to them (they had 4's Master 35+, 45+,55+, Women, and Cat 3/4).
Maybe this cross racing isn't so bad after all?
When's
the next race?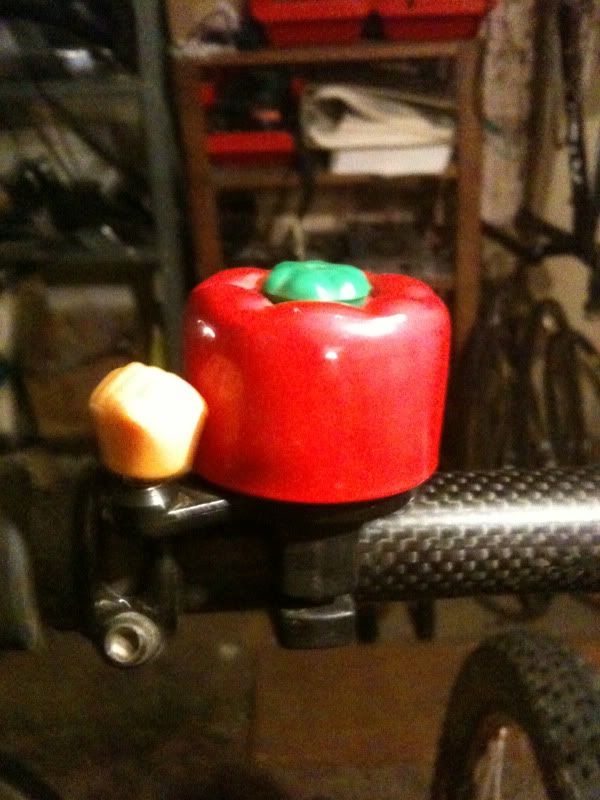 don't be hatin' on my bell