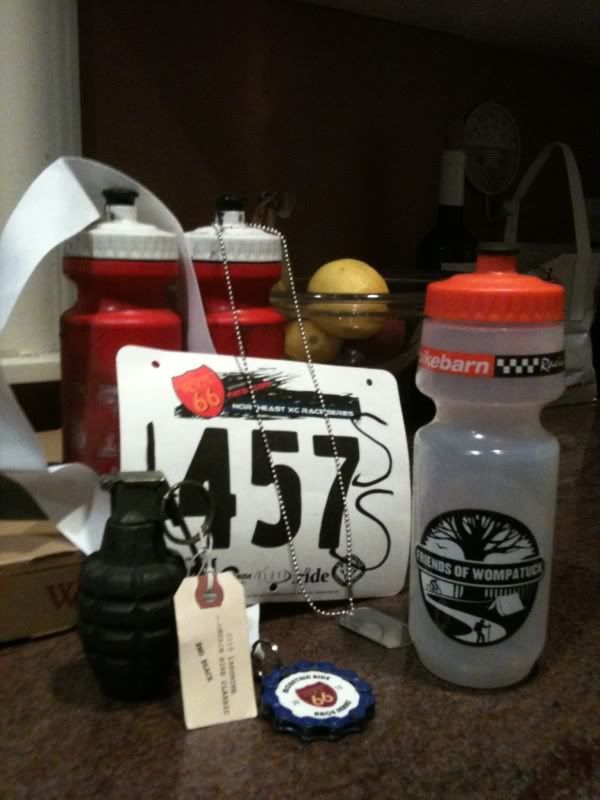 Landmine, last "official"* race of the season. Most racers were ready for the season to end, but I felt I was just getting started.
With Landmine Jill and Chris, the Root 66 head honchos, have a lot of balls in the air. There is a Marathon going on at the same time as the regular
XC
event, and all the categories go off at once. To
expedite
this they lumped some of the groups together, which meant they were sending the Cat1 SS off with the Pros. That works well for us, because even when the Pros are just settling into the race they are flying; no getting caught behind a sit and spinner.
The whistle blows and for a very short time I'm the first
singlespeeder
...until local strongman Mike
Ramponi
from Independent Fabrications passed me and began to float away. I reeled him back a little, but once things started getting twisty he was out of sight.
But chasing him, I had put a little gap on Kerry and
Reinout
, 1st and 2
nd
overall in the series.
One of the unfortunate side effects of starting with the Pro men is the Pro women and leaders of the following age classes.
Mary
McConneloug
from Seven /
Kenda
very politely passed me with the leaders of the 30-39 class, who had paced Kerry back up to my wheel!
Fizzle Sticks!
We raced the next few miles when we entered a rocky section, I heard an
awful
metallic clank behind me. Kerry had crashed.
Again I started to build a gap, and again the next group of age group leaders, the 40-49 year
olds
brought Kerry back to me.
At the half way point we were only meters (that euro speech for feet or yards) apart.
But even though they caught us, we're the same age as those geezers and the lead group dangled in front of us. This was the carrot I needed, and finally began to build a gap.
It seemed my gear was just about perfect in the woods, as I was closing down the gap on geared riders, but once we'd get to a paved section, they'd twiddle their levers and fly away.
When Andy Chambers from the 50+ group caught me I was expecting Kerry to be once again on my wheel, but not this time. I raced into the finish alone, passing very
courteous
Cat3's from time to time, but without being pulled back.
Mike
Ramponi
, coming off finishing
2

nd

at the SM100
beat me by about 9 minutes. The way he rode away from us I wasn't sure if he was racing
singlespeed
or Pro. Sure he had some local knowledge, maybe without that the gap would have been more like 8:45.
The overall series remained unchanged with Kerry
Robair
of
Biker's
Edge winning the overall, after a long fought season. He solidified his gap over
Reinout
Schoolderman
with his 3rd place finish at Landmine.
Congratulation guys!
I ended up in third overall, which I'm satisfied with having missed 9 weeks of racing.
One nice thing about the season being over, is I can ride more, while still spending more time with my family, so I guess I'm not too broken up with the season ending.
*no one said anything about "unofficial races"