The idea:
A kitchen pass would be hard to come by on Mother's Day so make Saturday count.
The execution:
well...
Wheels began turning just after 7:00 AM on our journey North to Southwick MA.
Shortly after we hit dirt we found the best laid plans maybe were not the best idea.
make believe tri-cage fail now with self ejecting bottle feature
We kept
Doug
waiting @ rt44 instead of making a beeline to make up for lost time. Doug's a great guy and all, but someone had recently cleared sidewinder and it would be a shame to skip. Doug shivered. He'd warm up later.
After about a, let's get all Euro here, 1k of dirt Doug's brand new tire caught a sidewall puncture.
Stan's no workie.
maybe 2k more down the trail, James gave Doug a
tire plug
to try. It seemed to work.
Aaron
hooked up with us in Penwood.
All was going as planned. The temp was rising quickly and clothing was being ditched in the bushes to be gathered on the return. Aaron's saddle bag broke off his bike so he abandoned his spare tube, CO2 and multi tube (spooky foreshadowing...).
Everything was back on track
then the plug stopped working.
But soon things were rolling along as planned again.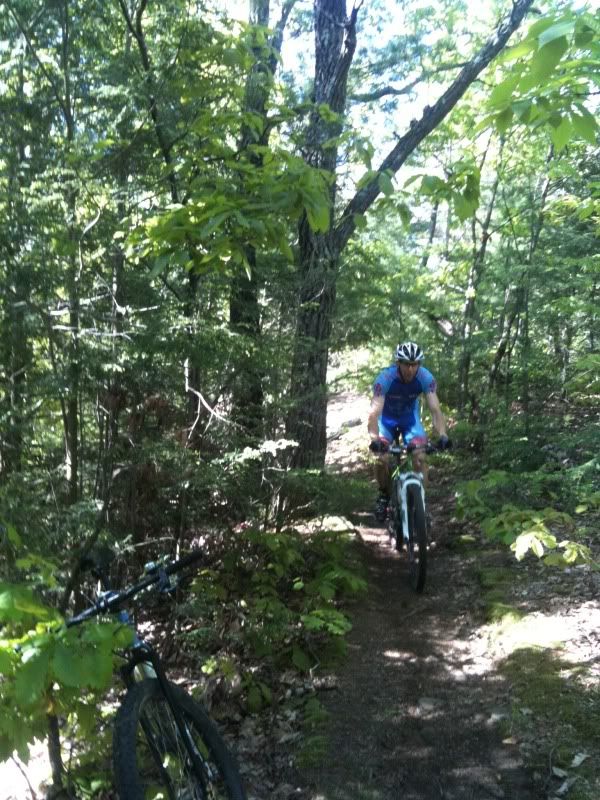 After we passed the Newgate over look Aaron flatted. I graciously offered him James' tube I was carrying since the first mechanical.
Then he flatted again, and I got to loose another couple hundred grams when I gave him my spare.
When we reached the road
Nea
l took to the front, and ramped up the pace to ludicrous speed.
This truly sucked as Doug and I madly spun trying to keep contact.
We failed.
James
on the other hand had no problem spinning the 140 rpm to keep up with him.
A not so quick food stop at
Red Riding Hood's
and we were headed South.
The spinning on the road was beginning to take it's toll.
Speaking of heading South the mercury was climbing.
By the time we got back to Penwood it was 86°F.
The final descent out of the Res was quite a relief and we were all ready to keep
tradition alive
.
With the mixture of climbing and flat road sections...if only there was some way to make a bicycle change gear ratios on the fly...hmm...that's an idea that might catch on...
In closing it should be noted that
The water fountains are on!!!
making for short work on long rides along the ridge.