My day was not going well. Actually it wasn't going bad but I was in a foul mood. I was looking a gift horse in the mouth so to speak. There was a race only 20 minutes from my house, but I was thinking I'd rather be tearing down my fence. 2:00 PM just seemed like an inconvenient time of day
for me
to race (either that or a convenient excuse for not getting anything done all morning). If my parents were not coming up for the race I'd probably have bailed.
Which leads us to the curse.
I love my parents, but my racing track record has not been stellar on the occasions they've come out to show me support.
First race they came to I crashed about a quarter of a mile into it and broke my frame. Next race I got the mother of all flats where the Stan's had done such a good job sealing the tire to the rim, that it took me over 20 minutes to break the bead and fix it (ironically the Stan's couldn't seal the puncture the nail made). The next was a CX race in Simsbury, which although no mechanical catastrophes, was only a mediocre performance. Finally this year I got 5th at Winding Trails behind some pretty tough competition (I was pretty happy
with that
).
I get out to the venue, pick up my number, pull my bike out of the truck and...no computer.
Great.
How can I be all anal-retentive with metrics without my computer?!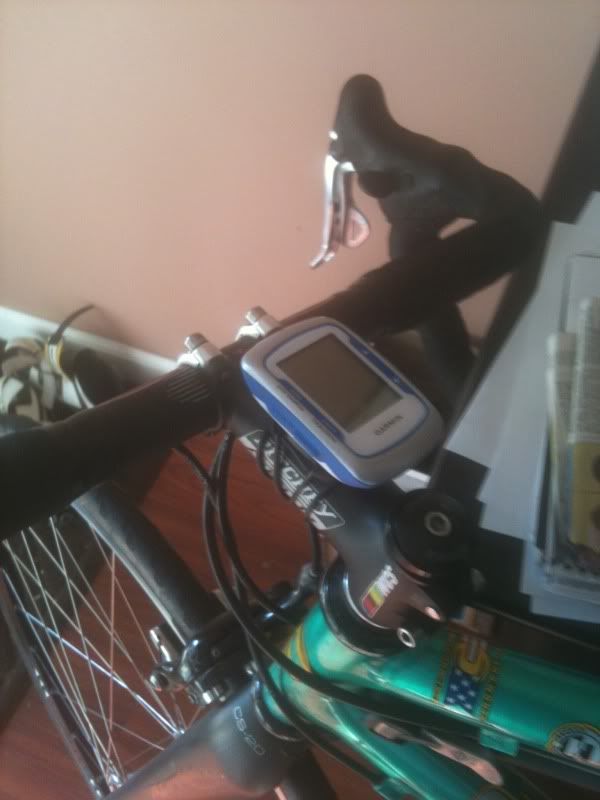 my computer, on my road bike
,
and yes it's in my kitchen...wife's away, Charlie will play or at least not bring his bike downstairs
I've got the strava app on my phone, so I guess I'll give that a shot to feed my sickness.
There are only 3 Cat1 singlespeeders, but they start us by ourselves. They send us on a little neutral parade loop
. Jake's not waving and smiling like Miss America, so I don't think he truly understood the idea of "parade" and leads thru the Start / Finish and up to the climb of the feed zone. Because it is up hill and my parents are standing there at the ready I feel a certain obligation to pass him.
Jake doesn't take this lightly and begins to draft me. There wasn't any aero advantage to this being as The
Boneyard
is quite possibly the most rocky technical course on the
Root 66 series
. He's not giving me an inch, just waiting for me to make a mistake.
About 3/4th of the way thru the first lap he sees one of his friends broken down on the side of the trail. I think this snapped his concentration, because as I got to one of the more significant climbs on the course a gap was growing.
From there I tried to go hard wherever I could to grow the gap.
Entering the second lap I was already getting racing chills, so I made an effort to drink as often as possible.
The first half of the course is the rockiest. It's all rocky, but up to the "Boneyard" it is brutal. For me riding rigid, there was a descent before the race's namesake that was the worst. At least picking your way through the Boneyard you weren't being sucked faster by gravity.
Speaking of brutality about 1/3 of the riders in Cat1 DNF'd. Mostly due to flats.
One the third lap I caught
TJ
. I commented that there couldn't be too many more 30-39s in front of him. "Just
Alex
" was his reply (Alex "I should really be racing Cat2" Combes would hold on for an impressive first Cat1 victory).
This gave me a new goal; catch all the 30-39s and not get caught by any 40-49's. Well I failed because shortly before the "
Boneyard
"
Alby
caught me.
This was good fun as I got to heckle him in the rock gardens.
Then I got caught by the second place 40-49. I gave him an easy pass, but when we started climbing again, I had to take the lead as his spinny gear and my standing gear were not playing nice.
When I passed him I reassured him I'd let him by again. At the bottom of the next descent the tape was torn down, I didn't see the arrow, and went straight. Number 2 didn't say anything. If you were aware that I rode off the course and just let me go, not cool Brochacho (very possibly he was concentrating on his own thing and was not).
Anyhoo...
I got back on course and held on for the win (4th fastest Cat1 overall)...breaking the curse. Good thing too, because having my parent there was really a godsend; with the heat I
needed
3 bottles.
End of the lap I was hearing a grindy brake kind of sound. Since I was almost done I just ignored it. At the finish line I was alerted I was missing a caliper bolt.
Oops!
Guess I forgot to snug that down when I took my bike out of the stand to help TJ with
his
.
I'm glad I sucked it up and went. The
Boneyard
is a unique racing experience, and I do love the spoils...