It was the right thing to do.
The trails would be muddy from all the rain last night, and the roads were still damp.
With the wind riding fixed might not have been the smartest thing, but the Fun Machine has fenders, and
Fast Eddy
had me all revved up about the Golden Years of bikes and the like.
It was just windy and drizzly enough to let let me pretend I was some sort of "Hardman", yet warm enough to remind me I wasn't (42 °F).
I was on the bike path about 40 miles into it at lunch time. The bike path right behind the commercial district of Simsbury. You know where the pizza joints and bakeries are.
Should have stopped, but couldn't decide if I wanted greasy Greek pizza (even if it was cut in squares), or apple pie with espresso. I could get both, but that would have made the remainder of my ride rather, ah, uncomfortable.
As I got back to town I realized it would be about 61 miles total. That's just too close to a metric not to ride a metric, so I zigged instead of zagging and ended up with 63.
Now where can I get some pie?
nature break at McLean Game Refuge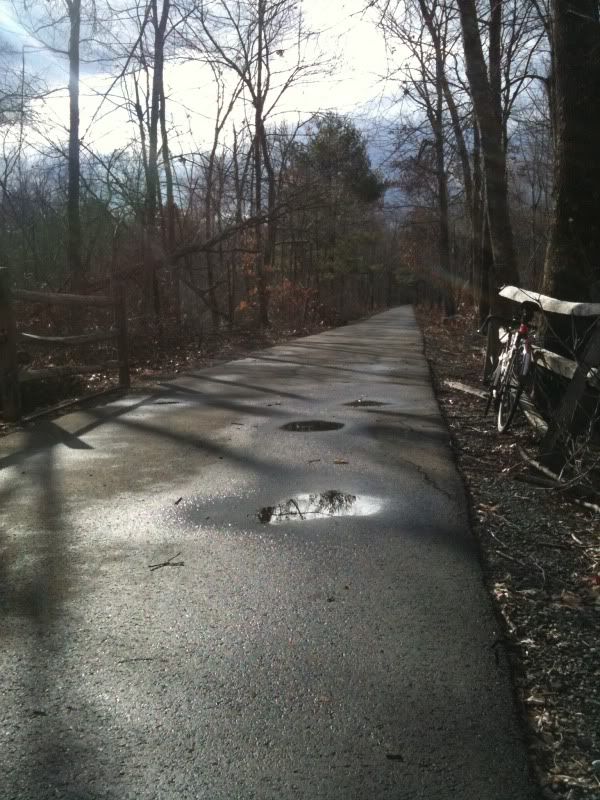 the bike path if perfect for Winter miles