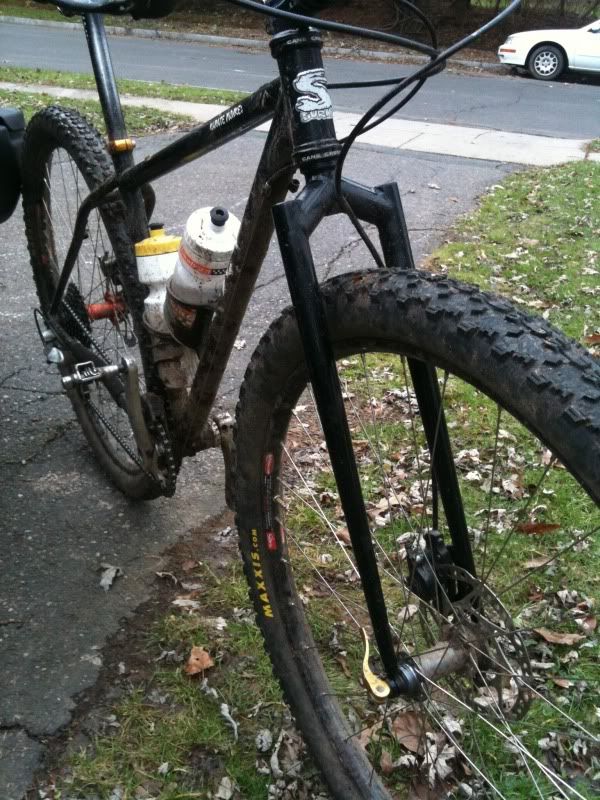 After 12 weeks my new
Waltworks
fork finally came in.
Worth the wait?
My initial impression is a resounding yes.
When I sent in the deposit, I had missed
Walt's
disclaimer that he was waiting on fork steerers, and the usual 6-8 week leadtime might not apply. That was probably good because I'm usually not that patient and more than likely would have done something else. Being such an awesome time of year to ride the weeks flew by. After my first ride I'm pretty happy I didn't go another route.
When you decide to have
Walt
build you a fork, you give him you weight, riding style, your current fork's dimensions, what your looking for in a fork, and if you're feeling particularly plucky, the actual dimensions you want him to build the fork.
The
Plastic Fantastic
worked pretty good on
Mary Jane
so I suggested those dimensions. What I was after was a fork that felt as good as my
Singular's
, was a little lighter, without any brake chatter (brake chatter isn't an issue with the Singular, it was on the original KM fork, and I didn't want to make a sacrifice just to save a few grams), and would work with the Karate Monkey's geometry.
At week #8, I change the dimensions to 5mm longer, with 5mm more offset than
El Cheapo Carbonito to try and make it more like the Singular, yet still be compatible with MJ.
After a little Fedex delivery-teasing it arrived yesterday.
As of right now it is perfect.
It steers directly, yet has enough flex to effectively offer some vibration damping, without any brake chatter. I found myself letting go of the brakes and just letting the wheels "run" on rocky descents. On flatter rooty sections I was more effectively able to stay on the power and pedal through them. It is almost too good to be on a bike with gears.
The finish is well done, however
Walt
used quarters to cap the fork blades which just look lumpy under the powdercoating. If there was some way to neatly strip the coating to expose Good Ol' George, that would look pretty cool.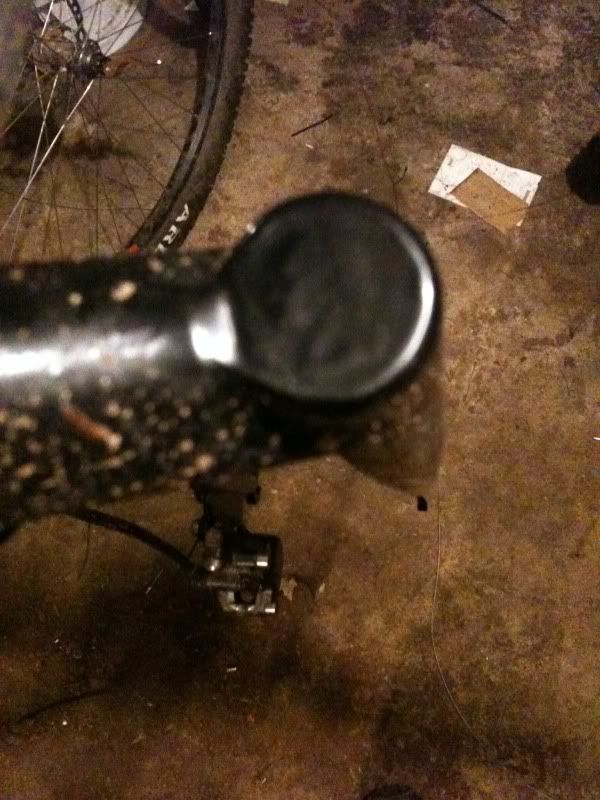 Unfortunately I sort of put the donkey in front of the cart. The fork was a "way to go Charlie" present for finishing second overall in the
Root66 Cat1 singlespeed class
. I was planning on using the prize money to pay for a portion of the fork. Almost 3 months since the last race still no payout.
look Ma, no lawyer tabs!